How our business relationship grew into a charitable partnership.
Stan Yamamoto helps a lot of people, even if they don't know it. As the Senior VP of Brand Strategy for Goodwill of Central and Northern Arizona, he guides the major non-profit brand in its mission to help those in the most need. Like most people reading this, Brad and I thought we knew what that entailed: Goodwill is that thrift store that sells your old stuff. Every time I've moved, there has been at least one trip to donate bags of clothes and sports gear and long-forgotten conference swag. But when Stan invited us on a Goodwill Mission Tour, we saw there's a hell of a lot more.
Moving mountains of donations
Forklifts ferry palette after palette to different areas of the perfectly organized warehouse floor. Between the seemingly endless aisles of high-stacked containers, workers sort through bins of unsold clothing, shoes, electronics, and home goods. Some bundle textiles for recycling. Others strip and disassemble mattresses to be recycled through a special arrangement with the City of Phoenix. Another team sorts through bins of electronics to be sold through a partnership with Dell. No donation will go to waste. Over 250 people run the 200,000 square foot Retail Operations Center (ROC) 24 hours a day, 7 days a week.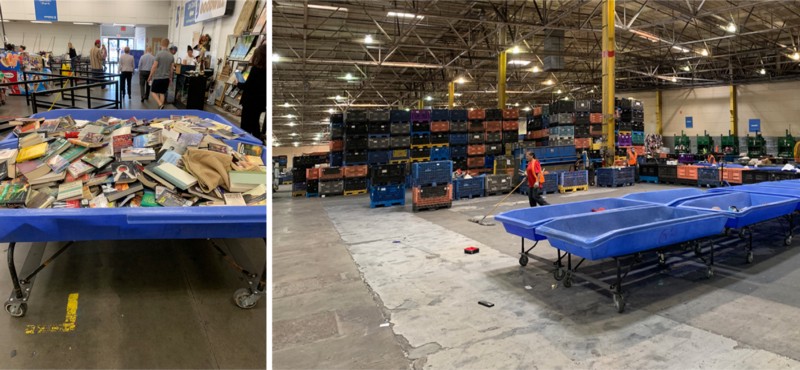 In 2017 alone, Goodwill of Central and Northern Arizona collected over 200 MILLION pounds of donations. That a lot of conference swag (and generosity). The logistics required are bonkers, but Goodwill has the supply-chain management to sort those donations, put 50% on the store floor right away, and use their ROC to find a place for everything that isn't or can't be sold in their stores. Their Clearance Center sells goods by the pound to families in need, flea market vendors, entrepreneurs, and e-commerce shops. Whatever can't be sold to consumers is then sold to recyclers. Goodwill maximizes the value of donations and keeps millions of pounds of waste out of landfills. These folks believe nothing — and no one — should be considered waste.
Seeing this, I couldn't help but be amazed by the scale of it all. If they could do all of this, couldn't I do more? It made me think bigger.
Helping Goodwill help others
What does Goodwill do with its revenue? It provides resources for job-seekers. Their mission is to eliminate unemployment in Arizona, and that's how we initially got involved with them.
Goodwill's Career Navigators help job-seekers create resumes, identify job opportunities in the area, and even map bus routes to help them get to work. Deep community partnerships also let Goodwill place job-seekers with numerous employers throughout Arizona. Clearly, the true value of Goodwill is the quality of the people who work as Career Navigators. However, Goodwill of Central and Northern Arizona saw an opportunity to do more for the job seekers, even those who can't make it into a Career Center.
After an extensive investigation to determine which tech solutions could help Goodwill in their mission, we collaborated to create an app called MyCareerAdvisor. The app provides fast, easy searches for jobs tailor-made for Goodwill applicants. It also provides access to community resources and online trainings to help applicants overcome personal and professional challenges. Since computer literacy can be a major stumbling block, the app features a personalized resume and cover letter generator. And to assist those with transportation challenges, the app provides remote access to Career Navigators via an online chat. Now that it has been rolled out to all 20 Goodwill Career Centers in Arizona, this new system will help tens of thousands of people find work. We could not be more proud of our small role in something so significant.
Putting our money where our mouth is
For many agencies, the story ends there and they move on to the next project. But that's not what we're about. We wanted to help Goodwill because we care about our community just as they do. Stan Yamamoto recognized that, which is why he invited us to see the behind the scenes machinery at work on the Goodwill Mission Tour. Stan wanted us to join that mission.
And that's how I became a Goodwill Ambassador.
Giving back to our community is among our core values. Previously, we've done it through supporting #yesphx and other tech entrepreneurship organizations. Our continued relationship with Goodwill, however, allows us to pursue a larger philanthropic goal: become a company that donates 1% of all revenue to charity. Now we're on our way with a $5,000 donation to Goodwill of Central and Northern Arizona.
In August, I was honored to attend the 2018 Empower Breakfast at the Phoenix Art Museum. Throughout the morning, we heard powerful stories from speakers who shared how Goodwill had changed their lives. Each story swelled my heart with the knowledge our work contributed to improving people's lives. I was grateful that we had the opportunity to build something with Stan, Brad, Josh, and such a committed group of people who are so passionate about helping others.
Our relationship with Goodwill has grown into something much bigger than a business partnership. I hope you'll join us by assisting Goodwill yourself. If you would like to take a Goodwill Mission Tour or become a Goodwill ambassador, please reach out to me personally at andrew@user10.com. And Goodwill relies on donations, so please consider donating time, money, or reusable goods.